Why Braces?
For most people, a beautiful smile is the most obvious benefit of orthodontics. After your braces come off, you'll feel more self-confident. During your treatment, we want you to feel as comfortable as possible.
How Orthodontic Treatment Works
Orthodontic appliances can be made of metal, ceramic, or plastic. They may be removable or they may be brackets bonded to the teeth. By placing a constant, gentle force in a carefully controlled direction, braces slowly move teeth to a corrected position. This is a great time to wear braces! Gone are the days when a metal band with a bracket was placed around each tooth. You can choose brackets that are clear or metallic color. You can choose the color of the ties that hold the wire in brackets. Wires are also less noticeable than they used to be and the latest materials move teeth faster with less discomfort to patients.
Duration of Treatment
Treatment time typically ranges from one to three years, depending on the growth of the patient's mouth and face and the severity of the problem. Patients grow at different rates and will respond variously to orthodontic treatment, so the time to case completion may differ from the original estimate. The patient's diligent use of any prescribed rubber bands or headgear is an important factor in achieving the most efficient treatment. Interceptive, or early treatment procedures, may take as few as six months.
Traditional Metal Braces
Traditional metal braces are the most common type of braces and are more comfortable today than ever before. Made of high-grade stainless steel, metal braces straighten your teeth using metal brackets and archwires. With metal braces, you have the option of adding colored elastics (rubber bands) for a more unique and colorful smile.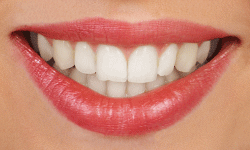 Gold Braces
Gold braces are similar to traditional metal braces in many ways. They are made of stainless steel, but are uniquely coated in gold. The gold coating may be considered a more cosmetic option than traditional metal braces. And, the cost of gold braces is surprisingly comparable to most clear braces.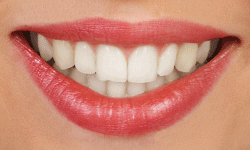 Ceramic Braces
Ceramic braces are made of clear materials and are therefore less visible on your teeth than metal braces. For this reason, ceramic braces are used mainly on older teenagers and adult patients who have cosmetic concerns. While they are visually less prominent, they do require more attention to oral hygiene as ceramic braces are larger and are more brittle than their metal counterparts. For these reasons, ceramic braces tend to be used more on upper front teeth than on lower teeth.
Invisible (Clear) Orthodontic Appliances
Invisalign
Invisalign® uses a series of invisible, removable, and comfortable aligners to straighten your teeth. And, no one can tell you are wearing Invisalign because it's invisible! Not only are the aligners invisible, they are removable, so you can eat and drink what you want while in treatment, plus brushing and flossing are less of a hassle. The aligners are comfortable and have no metal to cause mouth abrasions during treatment. Click here to learn more about Invisalign.
Elastics (Rubber Bands)
Wearing elastics (or rubber bands) improves the fit of your upper and lower teeth. Wear rubber bands as instructed and remember that the rubber bands work far more efficiently if they're worn as prescribed.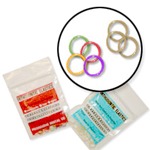 Headgear
Headgear is used to treat patients whose teeth are in an overbite, with the upper jaw forward of the lower jaw, or an "underbite" with the lower jaw forward of the upper jaw. Headgear gently "pulls" on your teeth to restrict further forward growth of your upper teeth and jaw.
Herbst® Appliance
The Herbst® appliance reduces overbite by encouraging the lower jaw forward and the upper molars backward. This fixed appliance is used mostly for younger, growing children and is worn for about 12-15 months.
Palatal Expander
The palatal expander "expands" (or widens) your upper jaw by putting gentle pressure on your upper molars each time an adjustment is made. Your orthodontist will instruct you about when and how to adjust your expander. When you achieve the desired expansion, you will wear the appliance for several months to solidify the expansion and to prevent regression.
Twin Blocks
A Twin Block has two pieces that push in opposite directions.  The top piece pushes the upper jaw and can also widen the jaws.  The bottom piece pushes the lower jaw.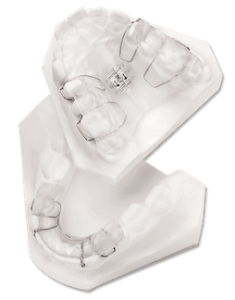 Retainers
Retainers may be removable or fixed. They hold your teeth in their new, correct positions after your teeth have been straightened. Your orthodontist will instruct you on how to care for your retainer and about the duration of the wear. Wearing your retainer as directed is crucial to prevent regression of your treatment.
Separators or Spacers
Separators are little rubber doughnuts that may be placed between your teeth to push them apart so that orthodontic bands may be placed during your next appointment. The separators will be removed before we place the bands. Separators do not mix well with sticky foods, toothpicks, or floss.
Retainer Instructions
Wear your retainers full time, until the doctor instructs otherwise.
Take your retainers out when eating, and always put retainers in their case! (Most appliances are lost in school lunchrooms or restaurants.)
Clean retainers thoroughly once a day with a toothbrush and toothpaste. Use warm but not hot water. Brushing retainers removes the plaque, and eliminates odors. Efferdent® or other orthodontic appliance cleaners can be used, but do not take the place of brushing.
When retainers are not in your mouth they should ALWAYS be in a retainer case. Pets love to chew on them!
Initially, you may find it difficult to speak. Practice speaking, reading, or singing out loud to get used to them faster.
Retainers are breakable, so treat them with care. If retainers are lost or broken call us immediately.
If you have any questions or concerns about your retainers, or your retainers need adjusting, call us. Do not try to adjust them yourself.
Always bring your retainers to your appointments.
Retainer replacement is expensive; with proper care they will last for years!
Remove retainers when swimming.
Keep retainers away from hot water, hot car dashboards, pockets, the washing machine, and napkins.